Casio 61-Key Vocal Synthesizer Portable Keyboard -Touch Response - CTS1000V
This item is out of stock.
Reserve one now. We will contact you with an estimated delivery date. Questions? Contact us here.

 

61 full-size touch response keys plus pitch bend wheel

 

Bright backlit LCD display with easy, intuitive interface

 

3 assignable knobs for controlling modulation, effects, filters, and much more

 

Vocal synthesis with personalized lyrics via the free Lyric Creator app

 

800 AiX-powered Tones and 243 full accompaniment Rhythms

 

Editable DSP effects

 

Powerful bass-reflex stereo speaker system with surround effect

 

Audio sampler and 6-track MIDI recorder

 

Strap pins for playing anywhere

 

1/4" line outputs to connect to mixers, PA systems, etc.

 

Class-compliant USB-MIDI connects to the free Casio Music Space iOS/Android app

 

Includes WU-BT01 Bluetooth MIDI/Audio adapter
 
Find Your New Voice.
Since 1980, Casio's mission has been to help musicians find their voice. Now, the Casiotone CT-S1000V gives your music a brand new voice: Its own. Along with 800 stunning Tones and a wealth of musical tools, the CT-S1000V features new Vocal Synthesis technology that brings your words to life.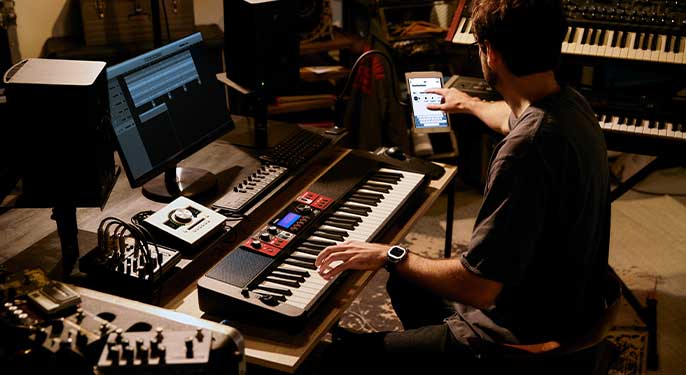 Innovative Vocal Synthesis

"The human voice is the most beautiful instrument of all time, but it is the most difficult to play."
-Richard Strauss

Boldly defying convention, the CT-S1000V does what no other keyboard can do: Speak or type your lyrics into the free Lyric Creator app for iOS/Android, transfer them to the CT-S1000V, and play the keys to hear your words come alive. Choose from multiple vocalist models, and adjust age, vibrato, portamento and other parameters in real time. It can produce choirs, robotic sounds, vocoder-like textures, and more. You can even create a custom vocalist based on an audio recording.
Vocal Synthesis with the Casiotone CT-S1000V
The Casiotone CT-S1000V is the only instrument with Casio's revolutionary new Vocal Synthesis technology, which lets you create lyrics using a phone or tablet and then play them musically using the CT-S1000V's keys.
 FEATURED VIDEO