Yamaha 88-Key Digital Piano in White / Stand and Bench Optional - DGX670WH
This item is out of stock.
Reserve one now. We will contact you with an estimated delivery date. Questions? Contact us here.
OVERVIEW
The DGX pianos have been tremendously popular since their addition to Yamaha in 2005.  We have witnessed them improve over time, adding exciting features and upgrades, making this the most versatile digital piano on the market, all for an extremely low price point.
This piano is dimensionally oversized and does not qualify for free shipping.
High piano quality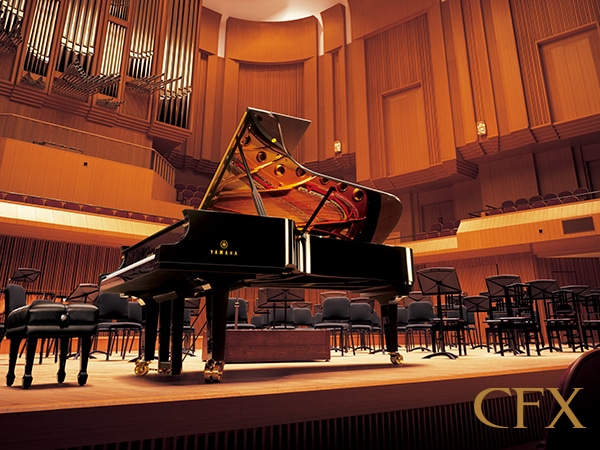 The world-class concert grand, Yamaha CFX Voice
The Yamaha flagship 9' CFX concert grand piano, offers sparkling highs and a powerful resonant bass combined in a sound that projects to the furthest reaches of any concert hall.
Enjoy every bit of that expressive control with the DGX-670.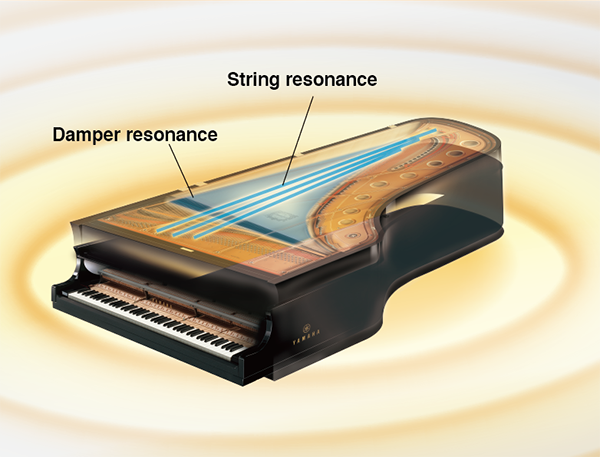 Virtual Resonance Modeling (VRM)
In a grand piano, strings and sounds resonate throughout the entire body of the instrument producing a rich reverberation that envelops the listener in sound. Not only are the strings you are playing vibrating, but other strings ring as a reaction to ones you play. This is one reason the piano sound is so complex and rich.
This phenomena is reproduced perfectly in the DGX-670 through Virtual Resonance Modeling (VRM) which calculates the various states of the strings for each of the 88 notes on the keyboard from one instant to the next. As a result, the DGX-670 reflects the limitless number of factors inherent in playing an acoustic piano such as which keys are pressed, the strength with which the keys are played and pedal timing.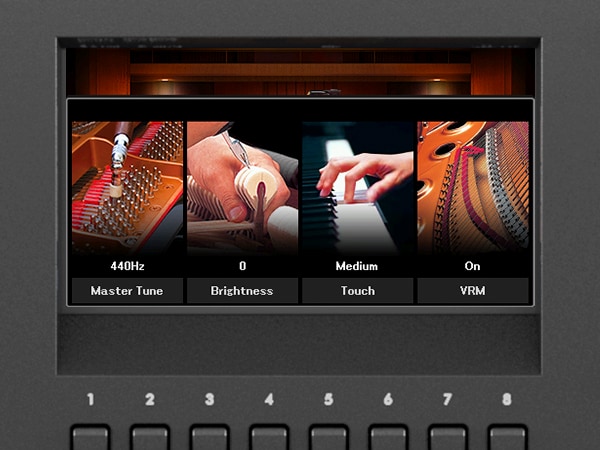 Customize your piano playing experience
Simple and intuitive controls let you choose from different piano and instrument Voices.
Try the acoustics in a rehearsal room, on a stage, in a cathedral, and other venues, and experiment with how far to open the grand piano lid to gain a feel for the subtle differences in sound.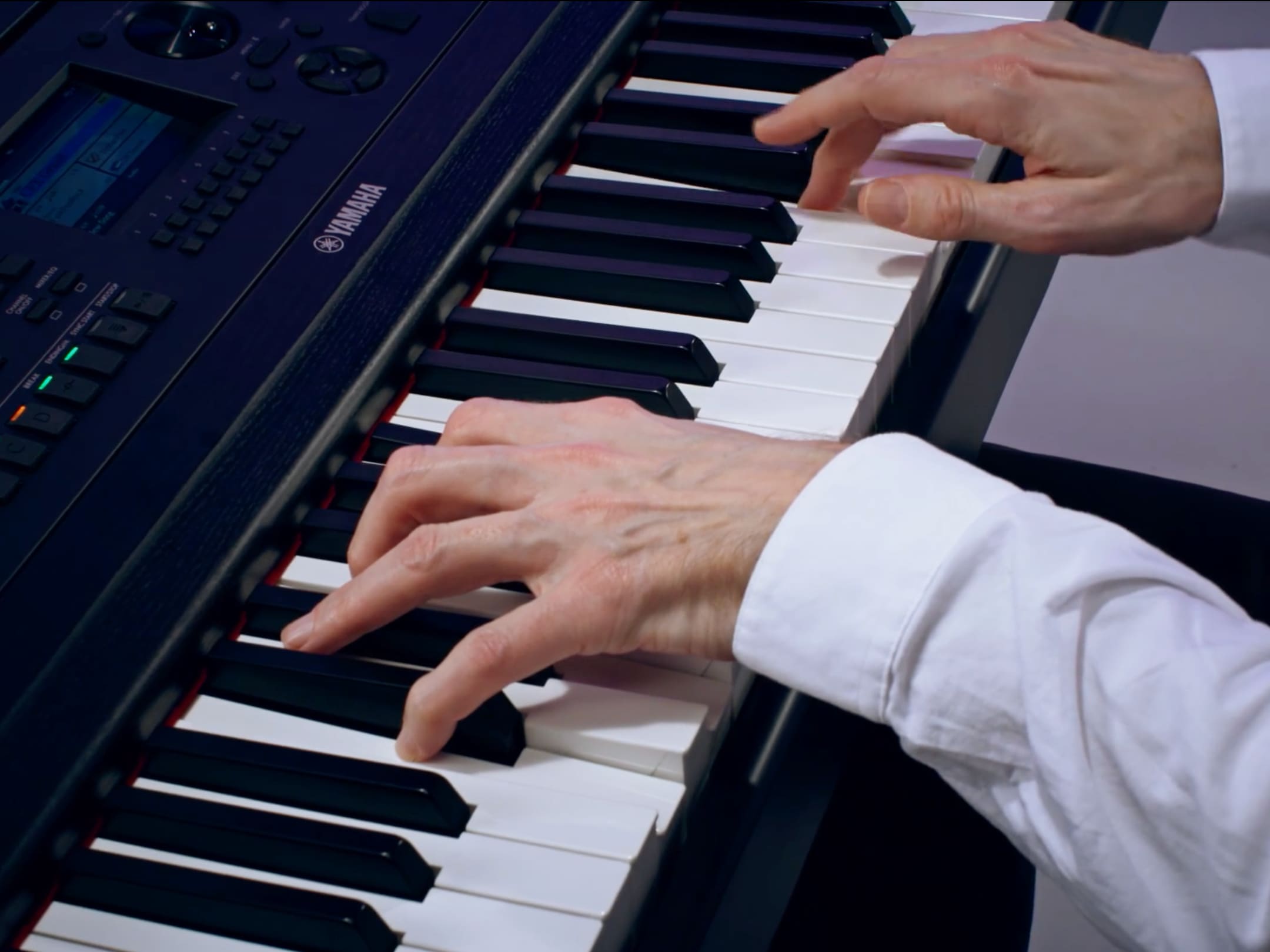 Authentic piano touch, 88-note weighted GHS keyboard
The Yamaha Graded Hammer Standard (GHS) keyboard features a weighted action with heavier touch in the low end and lighter touch in the high end, just like the hammers inside an acoustic piano. Great for the aspiring pianist, practicing on the GHS action builds the proper finger technique and strength for when the time comes to perform on an acoustic piano.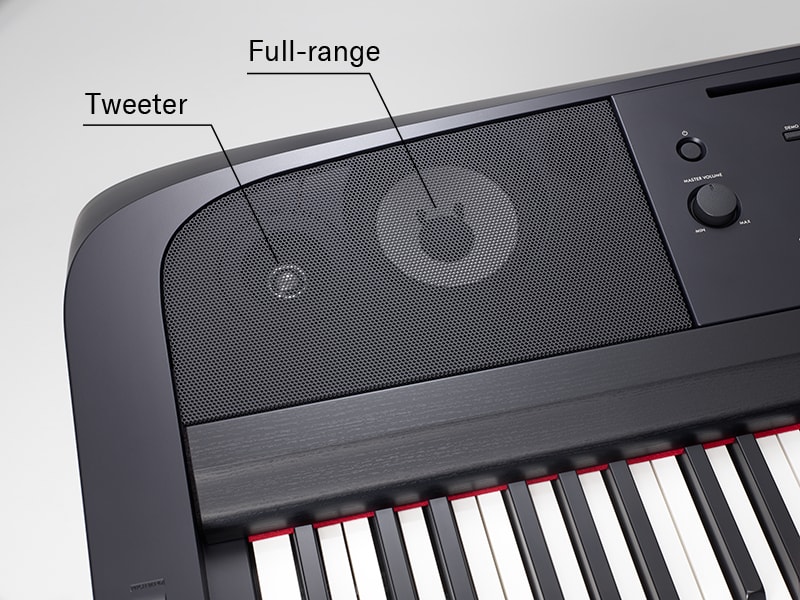 Powerful speaker system
The two-way system features round 12-cm speakers for impressive mid and bass, and a tweeter for dazzling treble. The piano sound is designed to feel immersive from the bench, and the accompaniment is optimized for impact.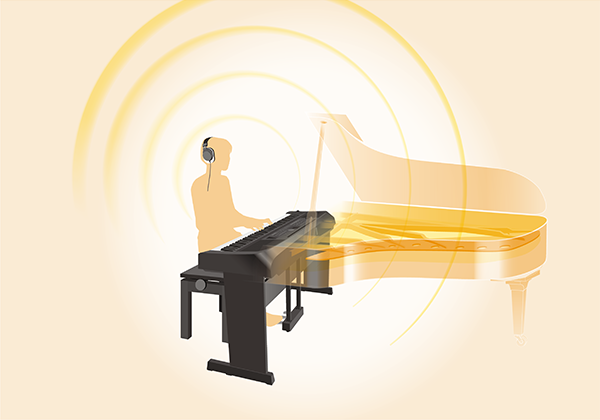 The Stereophonic Optimizer—a new kind of headphone experience
When using headphones, the Stereophonic Optimizer lets players enjoy the dispersed sound heard when sitting in front of an acoustic piano. With the Stereophonic Optimizer, Voices sampled from acoustic pianos appear to come from the body of the instrument. This provides a comfortable, natural experience that removes the drawbacks of performing with headphones.


Optional items (not included)
FEATURED VIDEOS
Adaptive Style - Accompaniment that automatically adjusts to your playing intensity.
The DGX-670 is equipped with Adaptive Style, a function that automatically analyzes your playing in real time and arranges accompaniment to suit the mood of the music. Play with more intensity, and Adaptive Style ramps up the accompaniment; switch to a mellower mood, and the Adaptive Style mellows out along with you. The accompaniment joins you wherever you are at any given time, giving every tune the thrilling feel of a live performance.



Simple Style - Minimal accompaniment for a simpler sound
When you want to make things simpler and highlight the instrument Voice you're playing, one push of a button is all it takes to strip the accompaniment down to rhythm and bass.



Smart Chord - Pro chords, played simply!
Smart Chord makes you sound like a pro, even if you're just learning how to play. With a single finger on your left hand, Smart Chord will create entire chords from simple pop triads to complex jazz 7th and 9th chords. Accompaniment Styles create the rest of your virtual band so you can get straight to playing music.



Unison & Accent
Unison & Accent are functions that open up a wide array of expressive capabilities.
With Unison, you play a phrase while pressing the foot pedal, making the accompaniment Style play in unison with you. This lets you perform signature lines found in iconic songs or create your own signature licks for the whole band to follow.
Accent lets you add rhythmic "shots" to accentuate notes of your choice simply by playing a little harder.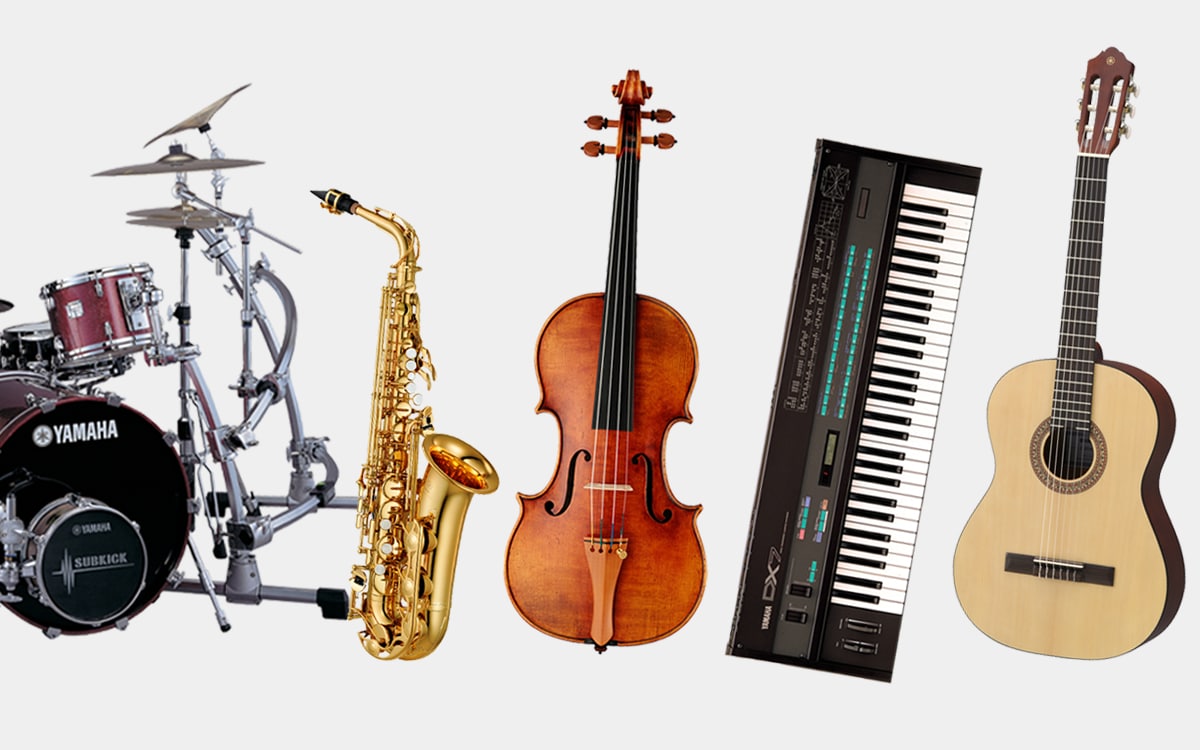 630 high-quality instrument Voices
Equipped with 630 varied, high-quality Voices including stunning pianos, electric pianos, organs, brass, strings, percussion, and more. From breathy saxophones to ringing guitars and warm, resonant strings, the DGX-670 impressively replicates sounds down to the finest nuances. Thanks to acclaimed Super Articulation technology, the distinctive characteristics of each instrument are reproduced in incredible detail as you play.